The Women's Network: Advocates for Democratic Principles
13th Statewide Issues Forum
Saturday, November 16, 2019
Holiday Inn Hurstbourne
1325 S. Hurstbourne Parkway, Louisville, Kentucky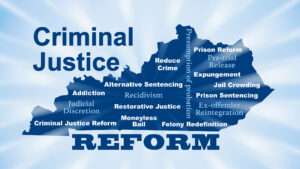 Agenda
8:15   Registration and Coffee
9:00  Welcome: Donna Moore Campbell, TWN Chair
9:15   Update and Overview of TWN's Criminal Justice Issues
Joan Gregory, Chair, Commonwealth Policy Institute
9:30  Break
9:45  Panel on Criminal Justice Reform       
Moderator, Bobby Clark, Chair, CPI Criminal Justice Committee
Pre-Trial Release: Pam Thomas, Senior Fellow, KY Center for Economic Policy
Mandatory Minimum Sentences and Presumption of Probation:  Scott West, Deputy Advocate, KY Dept. of Public Advocacy
Voting Rights Restoration:  Sara Lee, ACLU of KY, Smart Justice Advocate
Re-Entry Program for Incarcerated Felons:  Kristin Harrod, KY Dept. of Corrections, Director, Division of Re-Entry Services
Question and Answer Session with Panelists
11:30  Buffet Lunch (included with registration)
Luncheon Speaker:  The Honorable Greg Stumbo,  Candidate for Attorney General (when flyer was distributed)
1:00   Experiencing the Criminal Justice System:
Erika Pettus, ACLU of KY, Smart Justice Advocate
1:20   What to Expect from the Legislature: 
Senator Morgan McGarvey, Minority Floor Leader
Representative Charles Booker, Member, House Judiciary Committee
2:00  Questions for Legislators:   What can we do?
2:30   Forum Wrap-up
2:45   Annual Business Meetings of TWN & TWNPAC
Register online here using a credit card or PayPal account.
If you prefer, you may mail a check for $40 payable to TWN to The Women's Network, P O Box 910246, Lexington KY 40591.
Note:  You will receive a confirmation of registration via email. Please direct questions to info@kywomensnetwork.com.